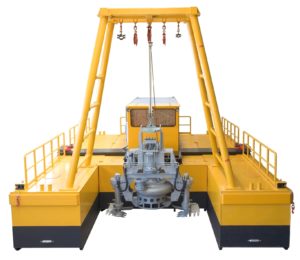 The naval division is in the shipbuilding market since the early 80s. Over these years it successfully operated both in ship construction and maintenance.
The large amount of expertise collected brought the company in a privileged position among the manufacturers of work boats, touristic, motor and sail yachts.
The success of naval division is based on the maximum customisation that can be given to the final product. Of course, everything based on the high professionalism and expertise of its technicians and workers.
The naval division is able to build vessels made of steel, aluminium-5083 alloy, and similar, among the others alustar(R) and sealium(R). Thanks to the know-how gained over the years, the naval division has improved welding processes for those alloys and has highly qualified and certified personnel.
The technical department plays a crucial role in the relationship between established professionals who design the boat, the partner companies for components supply and shipyard workers. The division starting from the 80s built approximately 80 boats of different sizes and characteristics that run throughout the Mediterranean sea, and can be proud of collaborations with established firms and professionals, using suppliers among the most qualified and reputable.
M/Y 111
Loa 111'
Beam 24.7'
Engines 2xMTU 16v 2000 M94 (1939 Kw 2450 vpnn)
Material AL 5083
Cruise speed 28 Kts – max speed 30 Kts
FORNA 40'
11.15 m LOA
3.65 m Beam
1.9 m Draft
Displacement 7 T
Ballast 3.1 T
Sail Area 75 m2
Engine Nanni  N 4.38 38HP
Material AL 5083
ARCHEOTECNICA
Float FE 430 type A Rina;
LOA 28 m;
Max width 4 m;
Designed to lift a Roman ship wreck from the bottom of the lagoon. It has 16 chain hoists and 16 air hoists to lift the boat without causing any break in the wooden structure.
DRAGFLOW
Modular floating equipped with dewatering pumps to dredge the seabed and beaches or turn the debris hundreds of meters or other floating.
Modules equipped with equipment of various powers can operate in various activities.
NETHUNE 1 – MOTOCISTERNA
Material FE 430 type"A" Rina to carry H2O
LOA 44 m
Width 7.5 m
Engines 2 x 450 HP
Cruise speed 6 Kts
Max speed 8 Kts
Equipped with 6 separate tanks of AISI 316 of 100 m3 each
M/Y ARIA 90' C BOAT
LOA 27.3 m
Max width 7 m
Engines 2 x Caterpillar C18 1015 HP
Material Fe 430 type "A" RINA
Cruise speed 13 Kts
Max width 15 Kts
BURCHIELLO M/N
LOA 24.9 m
Max width 4.8 m
Engines x 2 IVECO AIFO 8210 M 22/220 cv
Material FE 430 type "A" Rina
Cruise speed 10 kts
Max speed 12 kts
M/N DOGE
LOA 32 m
Max width 7.5 m
Engines 2 x 450 HP AIFO 8210 M45
Material FE 430 type "A" Rina
Cruise speed 10 kts
Max speed 12 kts
M/Y LUPA DI MARE
LOA 19.6 m
Max width 5.81 m
Engine x 2 AIFO 8210 2 x 500 HP
Cruise speed 12 kts
Max speed 13 kts
M/Y LADY R
LOA 27 m
Max width 5.6 m
Engines x 2 Caterpillar C18 1015 HP
Cruise speed 12 kts
Max speed 13 Kts
Material FE 430 type "A" Rina
M/Y 1940 STARKEL
LOA 19.5 m
Max width 5.5 m
Engines x 2 450 HP AIFO 8210 M45
Cruise speed 12 kts
Max speed 14 Kts
Material FE 430 type"A" Rina
M/Y TRANSEOCEANIC
LOA 12 m
Max width 4.7 m
Engines x 2 FPT N 67 ENT 450 (331 Kw 450 cv)
Cruise speed 10 kts
Max width 12 kts
Material Al 5083
ITALY 5 – TENDER
Material AL 5083
LOA 7.5 m,
Max width 2.5 m
Twin motors for water and land, equipped to civil protection and firefighters; carries a stretcher, a crane for lifting and towing.
Cruise speed 20 kts
Max speed 22 kts
In addition to craft listed above we can count at least another 60 buildings in FE or AL including:
The boats between 12 and 20 m length to transport complete garbage cranes, compactors at speeds up to 6-10 kts.
Vessels between 7-12 m with 20 speed – 30 kts for port services such as mooring, firemen, guards the fires,
tugs from 14 to 24 m for the handling of pontoons, barges equipped with low speed and high power
Of course all the staff is highly specialized on these buildings especially qualified welders for all materials used in accordance with RINA standards.