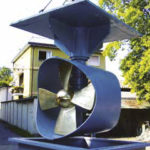 Miotto Bow Thrusters are designed for maximum simplicity in their manufacturing and installation. At the same time, they are able to provide the best performances among the others available on the market with the same nominal power.
Applications from 20 to 300KW driven by electric or hydraulic motor. They are characterised by the smart design which allows to be disassembled form their seat without requiring the ship to be recovered in the dry dock.
The Bow Truster (i.e. lateral pusher) BTM-type could be coupled with both electrical and hydraulic engines.
Connected to the vertical transmission shaft through a bevel gearbox with high reduction ratio, our Bow-Thrusters allow the use of four-blades high-performance propellers with low cavitation index.
The installation, very smooth, is designed to minimise the overall dimensions and to allow quick extraction for maintenance operations.
The feasibility to be coupled with hydraulic motor enables the design of other hydraulic circuits for on-board auxiliary services.
Accuracy in the manufacturing processes and high safety coefficients used in the design of all their components ensure reliability, low-noise and long-life to our Bow Thrusters.